6 things to do in Thailand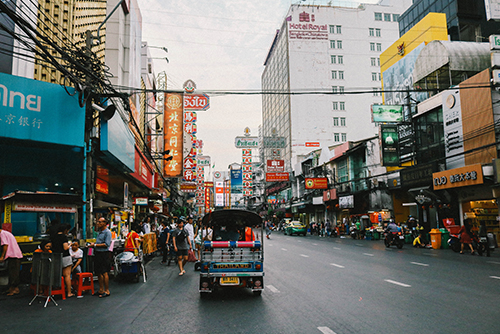 Thailand is a country that appeals to both backpackers on a budget and travellers with luxurious taste. This Southeast Asian gem is popular for short holidays, gap year travels and a place for expats and "Digital Nomads" alike to call home. With stunning beaches, lush mountains, delicious food, rich culture and party hot-spots, Thailand should be on every traveller's bucket list! Here are 5 things you could do while being in this paradise!
As much as Thailand is a paradise on earth, it is always better to be safe than sorry. Get protected from the mishaps of travelling by signing up for a travel insurance! For the latest promotion on travel insurance, please click here.
Shopping in Bangkok
Bangkok is heaven to the shopaholic in you! You will be spoilt for choices in the Pratunam District: with malls packed side by side to one another, you will find yourself surrounded by trendy apparels sold at such affordable prices you want to grab them all! Still not satisfied by Pratunam District? Head on to Bangkok's night markets for a night full of fun and adventures! One of the most famous night markets has to be Chatuchak, with over 27 sections and a total of 15,000 booths, you can find everything: ranging from local souvenirs to peculiar wood carvings. You hear it, your inner shopaholic is screaming!
Street food in Thailand
If you are up for an adventure on the roads of Thailand, then you are ready for the local street food extravaganza. What's better, authentic mouth-watering Thai street food is available almost everywhere you go, so you can instantly satisfy any cravings you have! From roasted meats to fried squid eggs, these local dishes surely won't disappoint you. If you are a daredevil, try Thailand's famous fried scorpions!
Getting on a tuk tuk ride
Your journey in Thailand is not complete if you don't hop on one of these Tuk Tuk rides. It might be faster to go in a taxi, but you won't get the same experience as going on a Tuk Tuk! Especially for Singaporeans so used to modernised methods of transport, it would be a step back in time. There is no fare meter for Tuk Tuk and the drivers will quote you the price they want, so definitely get your bargaining skills ready to save a few pennies!
Relaxation time
Tourists come from all over the world to try the Thai body massage. It truly is an experience not to be missed when you go to Thailand. Not only is it cheaper, but also the as authentic as it can be! A Thai body massage is all about making your body relax by squeezing and pressing out the stress out of your system. After the hour-long session, you will feel completely rejuvenated and refreshed! It is a must-try.
Experiencing muay thai boxing up close
If you are a fan of boxing or would like to get a taste of the Thailand cultural experience, then you should definitely take time from your schedule to book a ringside ticket to experience an authentic Muay Thai Boxing event from up close. A boxing arena event includes 7 different matches every night. Ringside tickets cost around $80 while back seat tickets cost around $40. Fan of boxing events, what are you still waiting for?
---
Thailand is a land of adventures and new experiences, a place you don't want to miss out on. Someday, hop on a plane and visit this beautiful country. You have no idea what awaits you!
InsureDIY has financial advisers that can help you make the right choice and answer any of your questions. Simply email us at [email protected] anytime!