Top 5 must visit unconventional restaurants in Tokyo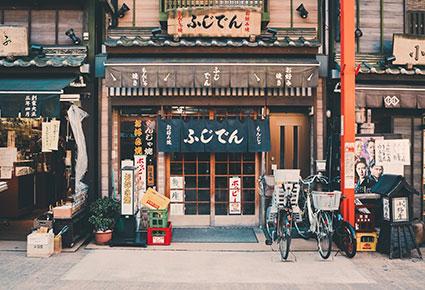 Been to the top touristic spots and looking for something extraordinary?
Let us explore these Top 5 Must Visit Unconventional Restaurants in Tokyo!
Are you ready?
1. Ninja restaurant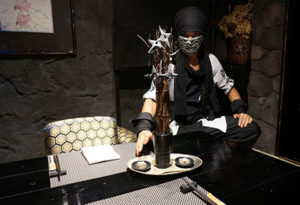 The first sightings of Ninjas was during the Sengoku period in Japanese history. These days, Ninjas can be spotted only in dramas and animes, usually as a group of Japanese legendary warriors dressed in black from head-to-toe, secretly fighting for justice.
Come & experience what it would be like to have a meal and be served by Ninjas!
The restaurant crew will guide you through a mysterious journey and make your dining experience an enjoyable and surprising one. Even the food presentation will be ninja theme-based!
How secretive can it be? You may miss out the entrance to the Ninja restaurant! Your adventure begins next to the Tokyu Plaza, right at the street corner with a small black door.
Restaurant: Ninja Akasaka
Address: 2-14-3, Nagatacho, Chiyoda-ku, Tokyo, Tokyu plaza Akasaka 1F
Menu: English Menu Available
2. Fishing restaurant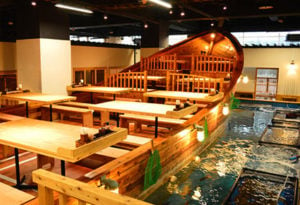 Located at Shinjuku, the Zauo Fishing Restaurant allows you to experience a next level of seafood freshness, i.e. you catch your own dinner, without all the hassle of getting to the city outskirts. When you enter the eatery, you will know that you have arrived at the right place, as a giant wooden boat with a pond besides it is in front of you at the center of the restaurant.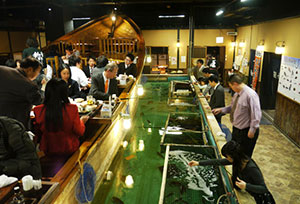 Best to bring along a group of friends fish together, so that you can compete with each other and get a higher chance to enjoy your group's catch. You pay for only the bait (if needed) and for the fish you caught. The chef will prepare it the way you requested and deliver directly to your table.
Tips: Book the table on the boat in advance if you wish to observe how others fish!
Restaurant: Zauo Fishing Restaurant
Address: Shinjuku Washington Hotel 1F, 3-2-9, Nishishinjuku, Shinjuku-ku
Menu: English Menu Available
3. Robot restaurant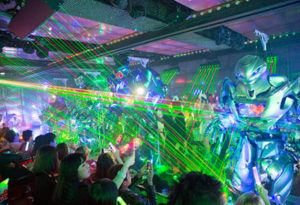 It could be an understatement to describe the place as a theme-based restaurant. You can have a sumptuous dinner there as the restaurant has compacted 13 Japanese mini-dishes into a Robot Gozen Bento.
Food definitely takes the back seat once the infamous entertainment show kicks off.
It is so overwhelming that you will see lots of neon sparkle reflecting from the metallic mirrors and lasers coming from every direction, followed by the widest range of robots you've ever seen in life, from animals, action heroes to beautiful lady android, echoing and dancing with showgirls.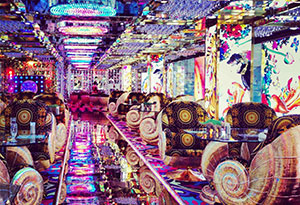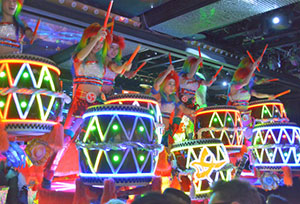 Good to end your trip with this big "wow" evening show. 4 shows per day. Tips: Check with agents first before making a reservation as you can possibly get special discounts for shows on certain dates.
Restaurant: Robot Restaurant
Address: B2F Shinjuku Robot Bldg, 1-7-1 Kabukicho, Shinjuku-ku
Menu: English Menu Available
4. Most colourful café in the world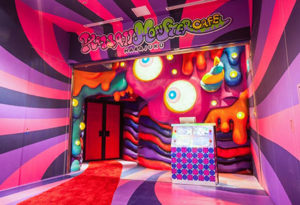 Cheerful colors like red, orange, yellow, green, pink, purple have healing effects and Kawaii Monster Café has it all for you at one place. The entrance of the restaurant tells you what you need to do right now – free your spirit and let it go with the flow.
You can only find joy here in the café. The place is divided into 4 "kawaii" (lovely) theme zones: Mushroom Disco, Milk Stand, Bar Experiment and Mel-Tea Room.
The most popular zone among girls is the Mel-Tea Room decorated with oversized macaron and chocolate. The dessert kingdom seems to have magic power to let everyone in the room fall in love with this sweet dream again and again.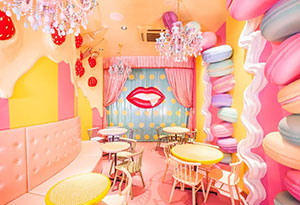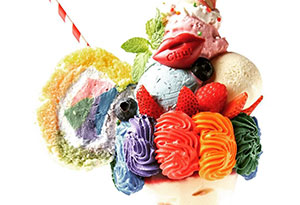 With or without a sweet-tooth, you are well guaranteed numerous "instagrammable" spots in the café to show your friends and followers. Spend time immersing yourself in this wonderland and feel the magic color healing power!
Restaurant: Kawaii Monster Cafe Harajuku
Address: 4F YM Square Bld, 4-31-10 Jingumae Shibuya-ku
5. Train fans café along the tracks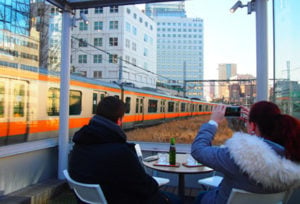 Enjoy train-spotting while enjoying a cuppa?
Then you have to go to Japan, the dreamland for train fans and this café in particular to enjoy the moments surrounded closely by trains and railways.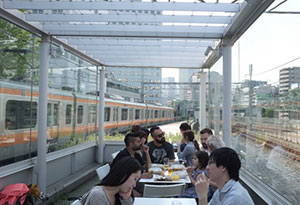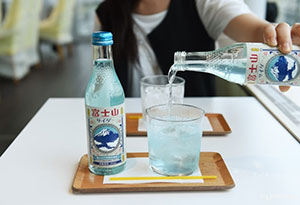 Located inside the renovated Manseibashi Station and situated right in between the Chuo Line tracks, N3331 café is the best place to observe trains as they pass by. N3331 is pronounced in Japanese as "en san san san ichi". The "N" stands for "Nippon/New/Next", and the "3331" represents the rhythm of hand clapping done after parties or special events in Japan.
With large windows and glass ceilings for the best view of the trains, N3331 is a modern and stylish place for a cozy drink in the evening.
Restaurant: N3331 Café and Bar
Address: 1-25-4 Kanda-Sudacho, Chiyoda-ku
---
InsureDIY has financial advisers that can help you make the right choice and answer any of your questions. Simply email us at [email protected] anytime