Gain extra holidays from the long weekends in 2019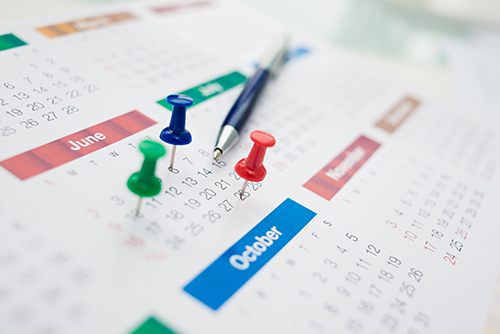 The best thing about starting the new year is to find out the long weekends that you are going to get. Long weekends are something that you can look forward to and by getting to know in advance, you will be able to plan ahead. Excitement builds up when you know where you get to spend these long weekends and whether it is possible for you to go out of town for a short vacation. If it is not a long weekend, you can always take leave a day before the public holiday or a day after to further maximise your off-time work. The earlier you plan your leave days, the better and longer your weekends will be in 2019.
When to take leave from work?
Chinese New Year (5th & 6th February)
This year, Chinese New Year falls on the 5th and 6th of February (Tuesday and Wednesday). From the 2nd to 10th of February, you can take 3 days off and you get to have a 9 days long holiday to enjoy a not-so-short getaway, even if you have to go "bainian".
Good Friday (19th April)
After Good Friday (19 April) you can take leaves for the subsequent Monday and Tuesday, you get to enjoy a long weekend to go on a short trip.
Labour day (1st May)
In May, during the Labour Day (1 May), which falls on a Wednesday. You can take Monday and Tuesday off and together with the weekend, you get to have 5 days off work.
Vesak day (19th May)
Starting from the Vesak Day period, you can take Friday (17 May) off and you also get Monday off since this public holiday falls on a Sunday.
Hari Raya Puasa (5th June)
In June, you can take 2 days off work before Hari Raya Puasa starts. Hari Raya Puasa falls on a Wednesday.
National day (9 August) and Hari Raya Haji (11 August)
In August, your holidays can start from National Day celebrations to Hari Raya Haji. From the 9th to 12th, you will get off days.
Deepavali (27th October)
Deepavali falls on a Sunday this year, which makes the following Monday a public holiday as well. You can take Friday off and get a nice weekend away from the city.
Christmas day (25th December)
In December, you can take 4 days off before Christmas and two days after that, which will probably make it the longest off days you get to have in 2019.
Where to go for the long weekends?
It is always nice to travel and enjoy some time off from your usual life and hectic schedule. If you enjoy long weekends overseas at the beach, you can go to the Philippines or Thailand, where you will get to enjoy the sandy beaches and have a good time. If you enjoy a peaceful scenery, you can pack your bags and go to Nepal. Kathmandu is a great place to be, as the capital of Nepal and as an old town that is very peaceful with a variety of beautiful heritage sights.
If you are looking forward to seeing a happening place with colours all around, Jaipur is the place to be. As a city painted in pink and other colours, Jaipur is in India and is also nearby Nepal. It is surrounded by historic palaces and ancient forts, which are sights that you have probably never experienced and seen before.
Other than India, you can also take a trip to Japan and check out Okinawa. Okinawa is perfect for diving activities and if you are a fan of diving or have been looking forward to trying diving for a long time, you can head over to Okinawa or to Yonaguni of the Yaeyama Islands. Even if you don't like diving, you can still go for the hot springs and whale watching.
A beautiful island, other than Singapore, that is great for a short time off is Nadi in Fiji. Fiji Island is located near Australia and is quite famous for its beautiful crystal clear water beaches. It is a little more expensive than the other places, but it is definitely worth it. Nadi is a quiet place and if you are looking for a serene peace of mind and you are ready to pay the price for it, Nadi is the place to be.
Tips before going for a long weekend holiday
It is very exciting to plan your trip in advance so that you have everything in place. Other than getting your flight tickets and booking your hotel rooms, you also need to make sure you are covered and protected on your trip by signing up for a travel insurance policy. Travel insurance will keep you safe in situations that come up unexpectedly while on your trip abroad. You will also be covered if your flight is delayed or cancelled. If you are going to a place where you will need a visa, remember to enquire about where you can get your visa before leaving for your trip. Get a quote now and save on your travel insurance today!
---
InsureDIY has financial advisers that can help you make the right choice and answer any of your questions. Simply email us at [email protected] anytime!