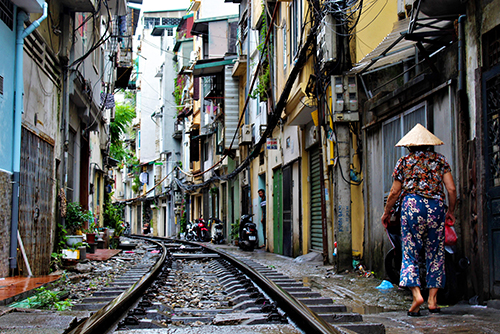 Vietnam, as a country, is a beautiful and serene place to visit. Hanoi, one of its most popular cities, is a gem on its own. With its authenticity still intact, any person can draw so much inspiration from Hanoi. The area, the food, the people, the sky and the life are all Hanoi's most attractive features.
If you have lived in the city your whole life, Hanoi is definitely a place you must go visit just to get a feel of what it is like to live someplace that is completely the opposite of a city. Before you leave the city for Hanoi, remember to sign up with a travel insurance company as soon as you have booked your tickets. Travel insurance will help you stay protected and safe on your trip to Hanoi. Here are the many ways you can get inspired in Hanoi.
By learning about its cuisine
The cuisine of Hanoi is something else. You might have been to other places around the world, but you have not tasted a unique cuisine until you have stepped foot in Hanoi. To further understand the cuisine of Vietnam, you can sign up for a cooking class. You can try your hand at learning how to make spring rolls, soups and many more local dishes. You can learn the skills on how to make a meal from scratch.
Food and drink sectors can be found along popular streets in Hanoi, such as Đinh Tiên Hoàng street, where you will be spoilt for choices on what to try. The longer your visit in Hanoi, the more food you can try. Just keep that in mind when you are planning an inspiring trip to Hanoi!
By going craft beer tasting
In Hanoi, there are a few places where you can get a taste of what Hanoi is like. You can go for the craft beer tasting experience at Hanoi Craft Beer Pub or Hoa Vien Brauhaus or even Furbrew. To further enhance your experience in beer tasting in Hanoi, you can hop on any of the Hanoi Craft Beer tours to go on a journey along with other craft beer tasting enthusiasts like you.
By witnessing the largest lake in Hanoi
As a 13-kilometer round journey, it will take you approximately a whole day to visit Tay Ho, also known as the West Lake. On this long route, you will come across a variety of popular restaurants and a range of boutique shops. You will also be able to see a few temples, some of which are quite popular. Tay Ho is also a favourite among the expats living in Hanoi.
By feeling its traditional costumes
The most popular traditional dress in Vietnam is the "ao dai" (long dress) and you cannot leave Hanoi before trying on this traditional dress.
By experiencing ancient art
You cannot take a trip to Hanoi and not have time to experience its ancient art. Right at the Municipal Water Puppet Theatre, you get to experience one of the best theatre performances you have ever seen. You can expect to see a performance complete with fireworks and singing that includes puppet shows in a flooded rice paddy.
You can also head over to the Hanoi Opera House, where you will find yourself in the same spot that legendary situations happened including the famous Viet Minh takeover in 1945. These days, you can get a ticket for any show that is taking place at the Hanoi Opera House, which is on most nights.
By going back in time with its architecture
When you land in Hanoi, you can very much feel and experience what it was like there 20 years ago. This is due to the atmosphere of the place, especially with its architecture. One of the popular places or spots where you can experience spirituality and peace is at Tay Ho Pagoda, which is one of the most famous temples in Hanoi. You can smell incense and feel the atmosphere when you are at this iconic temple.
Other than the architecture, you can visit the Vietnam Military History Museum where you will get to see a thorough dissection of the famous American/Vietnamese war. You get to see up close on display, a variety of Soviet and Chinese military hardware.
Lastly, you cannot leave Hanoi without visiting the Hanoi Citadel. With a UNESCO World Heritage Status, the Hanoi Citadel was built in the 11th century during the Ly Viet Dynasty. It is there that you will be able to grasp what Hanoi was like in the 11th century amidst small museums and shrines. It is an iconic and inspiring place that should not be missed.
---
InsureDIY has financial advisers that can help you make the right choice and answer any of your questions. Simply email us at [email protected] anytime!