Why you should consider Seoul one of your year-end destinations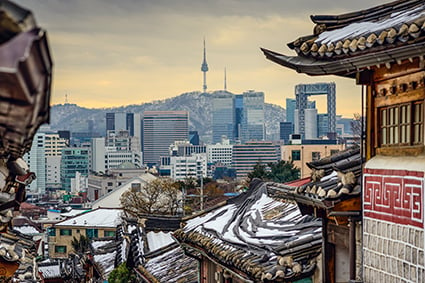 Seoul is quite a famous city and this is partly due to the beautiful visuals that South Korean TV dramas have brought to Singapore. The craze for everything South Korean has grown for the past ten years and has still been growing. Seoul is the largest city of South Korea that includes the famous Incheon. There are many reasons why Seoul should be on your must-visit places list. Here is why you should consider making a trip to Seoul as one of your year-end destinations.

Seoul never sleeps 
Unlike other cities around the world, Seoul is one city that never sleeps. The nightlife of this city is so active. At any time, you will not have any problem doing something, whether it is eating or shopping. If you have usually experienced a quiet place that boasts of tranquillity, Seoul will be a surprising change for you. One of Seoul's busiest areas is Myeongdong, which is a paradise for tourists that can never stop shopping or enjoy window-shopping. There are a variety of branded Korean shops, such as Nature Republic, The Face Shop, Etude House, and many more. There's also many street vendors that will keep you full and energised.

Go back in time 
If you are a history fan, Gyeongbokgung is the place to be in Seoul. Built in 1395, it is the main palace located in the heart of Seoul. At the palace, you get to see the throne of the Korean king. There is also a meditation pond and other buildings that were used by the royal court at that time. The location is a goldmine, as it is close to many interesting places. The presidential Blue House is nearby and also, the Sejong Performing Arts Center. The National Folk Museum is close by, where you get to see traditional costumes up close. The museum also has a display of a variety of kimchi.
Huwon, also known as the Secret Garden, is located near Changdeokgung. This six-acre garden was built in 1623 and has a lotus pond, pleasure pavilions, and woodland paths. The Secret Garden is one of the hotspots for tourists and it's because of its popularity that it offers a guided tour in Korean, English and Japanese – depending on your choice of language.

Experience the wine and dine of Seoul
Tasting Korean food in Singapore is not the same as having it in its place of origin. Many interesting restaurants in Seoul provide a great wine and dine experience for tourists. Tosokchon is a famous restaurant that serves samgyetang. The Goryeo Samgyetang restaurant is also quite popular among tourists, since it's located near the Sejong Performing Arts Center. Samcheonggak is a well-known fine dining restaurant, which is located near the presidential Blue House. At Samcheonggak, you will find a menu of different price ranges. If you want to experience what it is like to eat like the Korean royals, you can do so at a high price.
If you want to experience street food, you will be spoilt for choice since there are quite a few street vendors selling Korean dishes as well as desserts and snacks. Watch out for the Korean version of Ais Kacang, which is known as patbingsu in Seoul.

Shopping, shopping and more shopping!! 
If you are a fan of Korean arts and crafts, you will find Insadong quite interesting. Featuring celadon pottery and ink drawings, Insadong is the place where you can buy authentic Korean souvenirs to bring back home. Ssamziegil is a famous shopping mall in Insadong with a unique design. It is filled with shops that sell both local and international goods. For more choices, you can go to Insa Korea, which features a range of stalls that sells authentic Korean items at fair prices, traditional costumes, art, souvenirs and many more.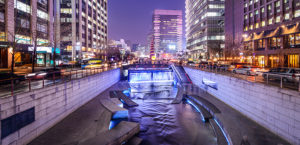 Famous spots in Seoul
Cheonggyecheon is located in Seoul and has been frequently shown in movies and TV shows filmed in Seoul or South Korea. A $900 million urban beautification project, which took years to be built so the stream that used to run through downtown can be restored. The end result is a beautiful lighting spot that is a huge attraction for the locals and tourists at night. It is a great place to walk or relax and you can even dip your feet in the water.

An unstoppable ride in Seoul 
The city of Seoul provides tourists with a Seoul City Tour Bus that takes you to 26 touristic spots in places like Itaewon, Myeongdong, Gwanghwamun, Seoul Station, Changdeokgung, Seoul N Tower, and many more. There is also a night bus, which does the same. It is definitely a small price to pay just to see many exciting places in Seoul by bus with other tourists.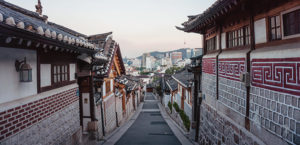 Seoul – A new experience
The heart of South Korean lies in Seoul, a city that definitely deserves a chance to be visited at least once in your lifetime. It is an experience that is waiting to be experienced by Singaporeans. While planning your year-end holidays, do not forget to sign up for a travel insurance policy before you leave Singapore. It is better to travel with a peace of mind than being worried about things that are not in your control, such as delay and baggage lost.
---
InsureDIY has financial advisers that can help you make the right choice and answer any of your questions. Simply email us at [email protected] anytime!